Save the Children
In-House Publications
This page shows 'portfolio' publications designed and created while in-house at Save the Children, in addition to work developed as an external design consultant.

Save The Children operates in over 120 countries around the world and are the world's leading experts on children. We have been working with Save the Children for over 15 years helping with a variety of communications. This is a selection of Annual and Financial Reports for international reception.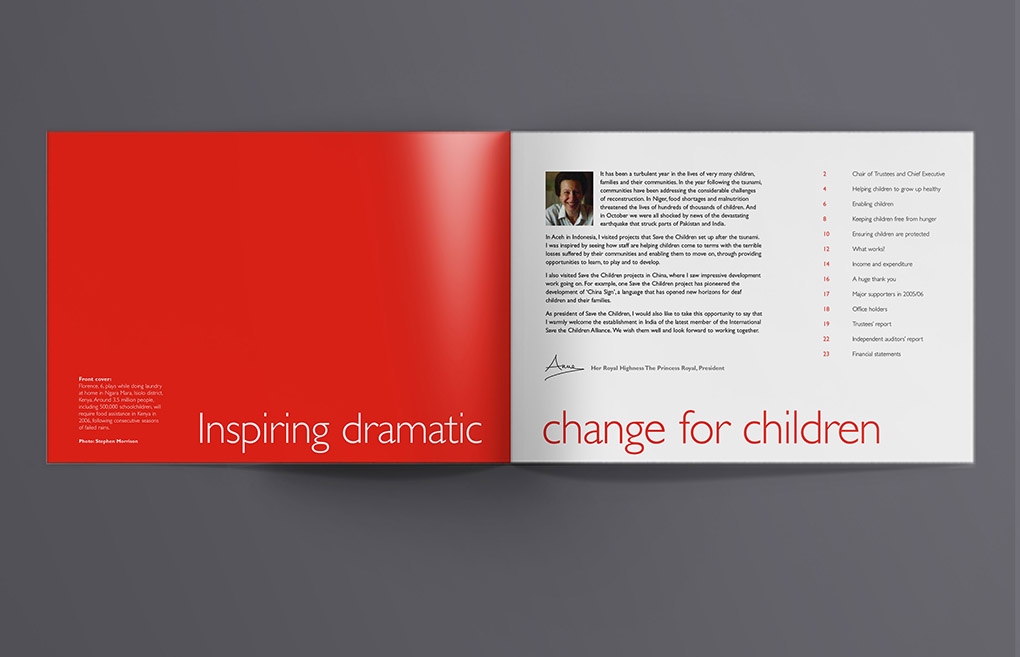 The reports are distributed to key stakeholders, donors, partners, members and charitable organisations, with a broad international audience ranging from governments, political organisations, committees and research bodies.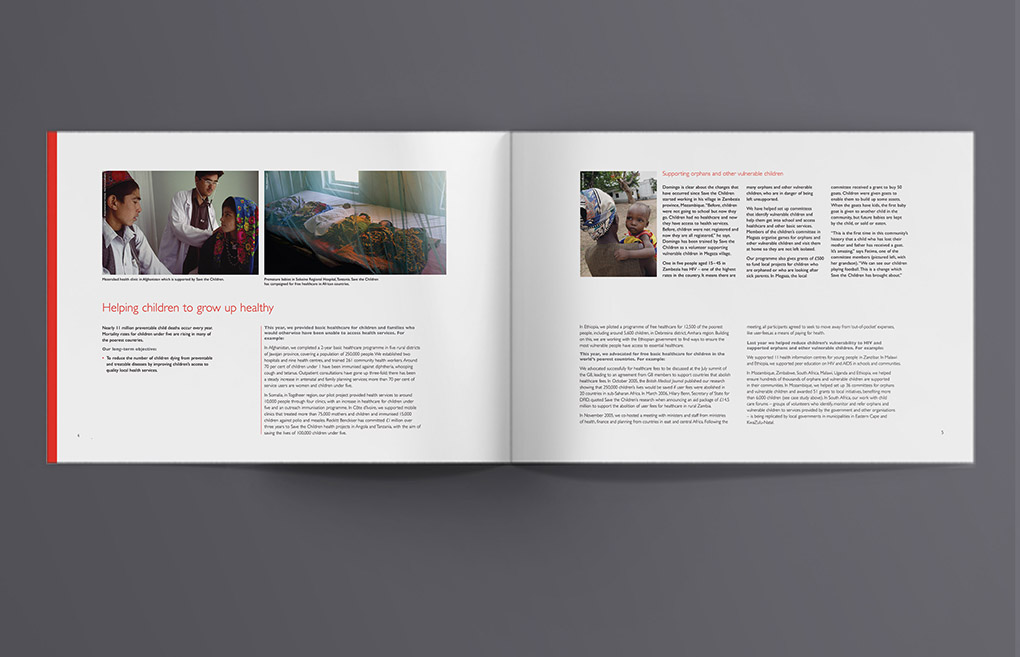 A clean and uncluttered layout enables the words and pictures speak for themselves.
These publications are of key importance, serving to update, inform, and advocate, raising interest and financial or political support for the future. They require a skilled approach from the editing and design team, managing content generated by many contributors. Multiple draft versions are developed, and approvals sought from several levels of the organisation throughout the process.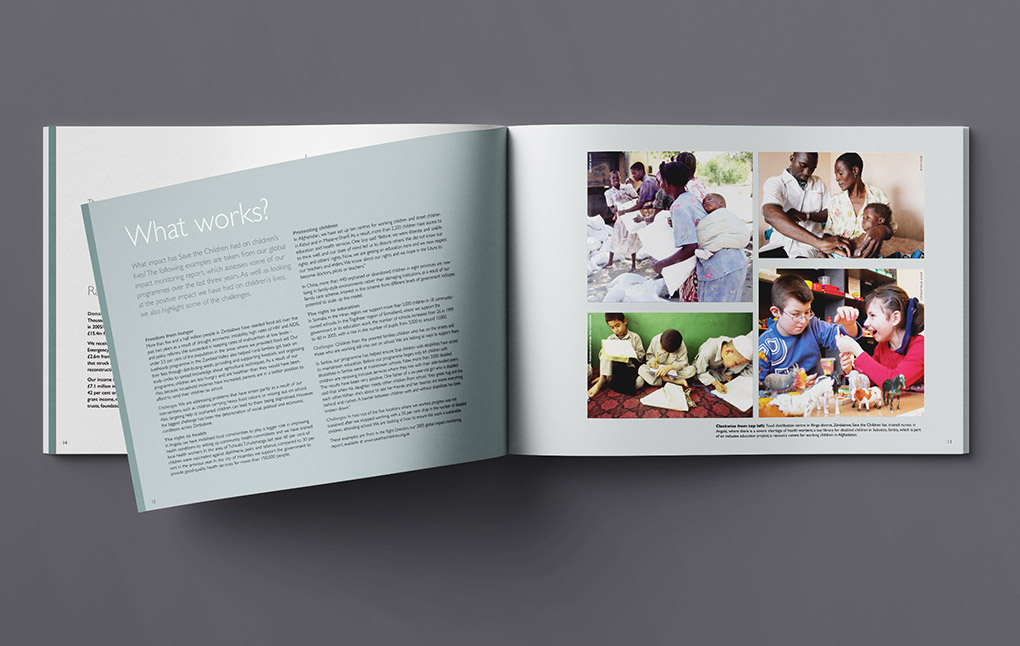 Save the Children have a lot to say and they take pride in the accuracy of their content both editorially and with contextual photography. The layouts are kept clean and uncluttered enabling the words and pictures to speak for themselves.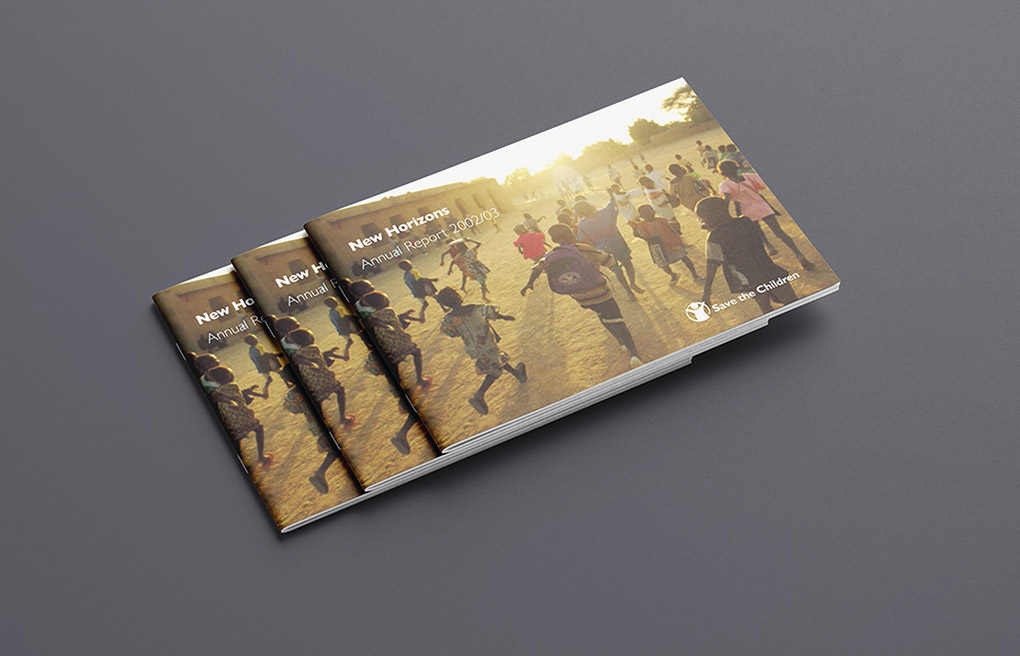 Imagery
Much of the subject matter and mission of Save the Children often involves distressing issues. However in representing people and their lives in places such as refugee camps or poverty environments, emphasis has been placed on positivity. Images are selected which reflect real people in adversity, but people with hope for improvements. Children are sometimes shown smiling or playing a game – engaging in familiar childish activities which stand out in contrast to their often desperate environments. This is an effective visual approach which has significant impact upon the reader.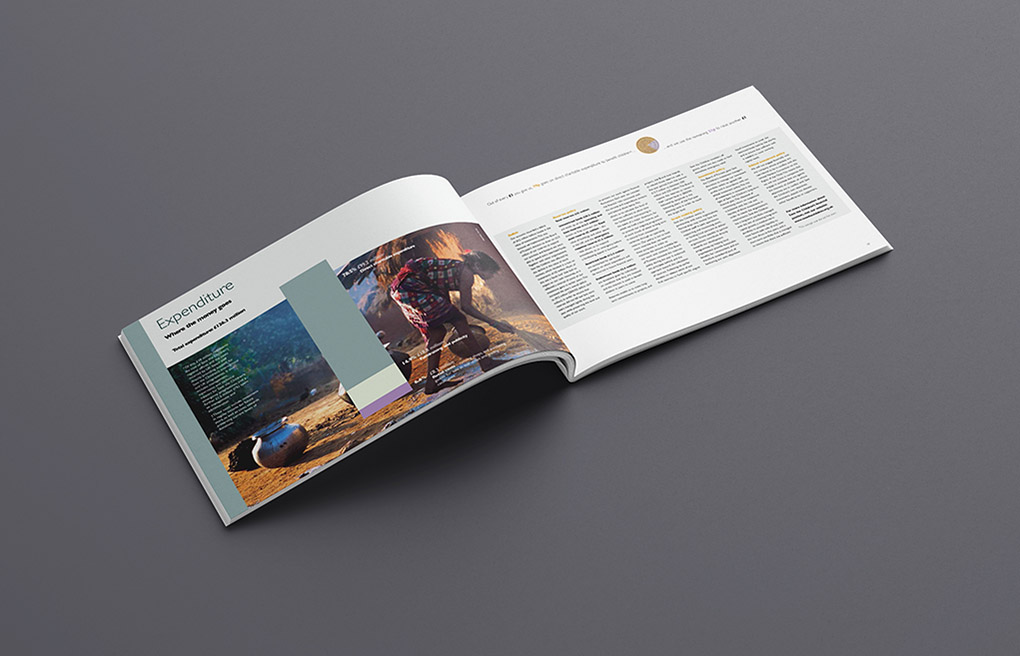 Financial Reports and Accounts
Clean and elegant typesetting is crucial for financial pages. Clear signposting makes it easy to navigate complex and detailed financial content.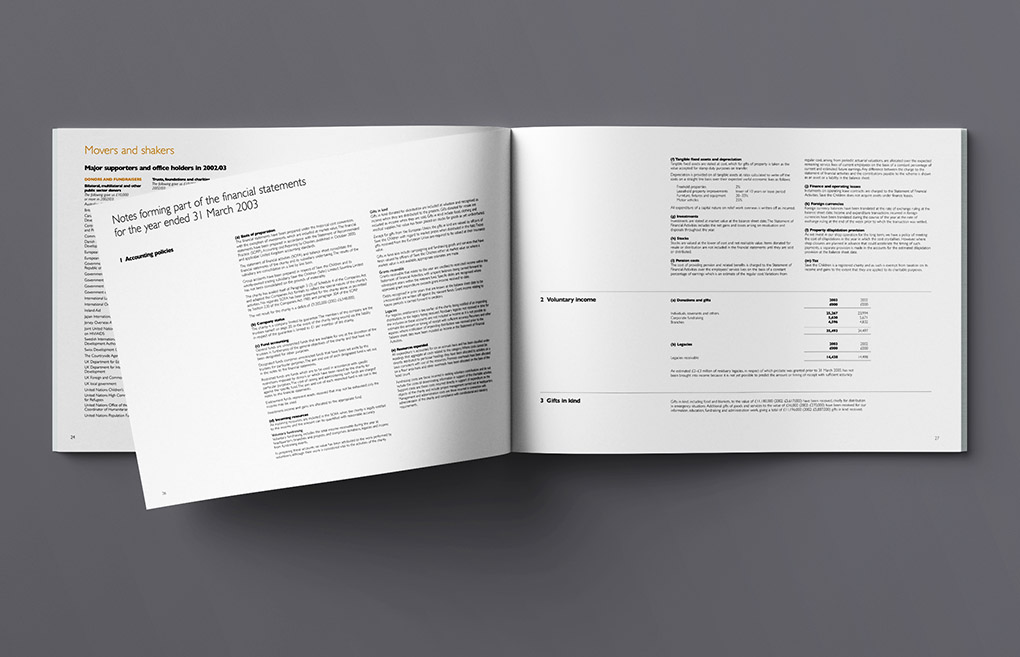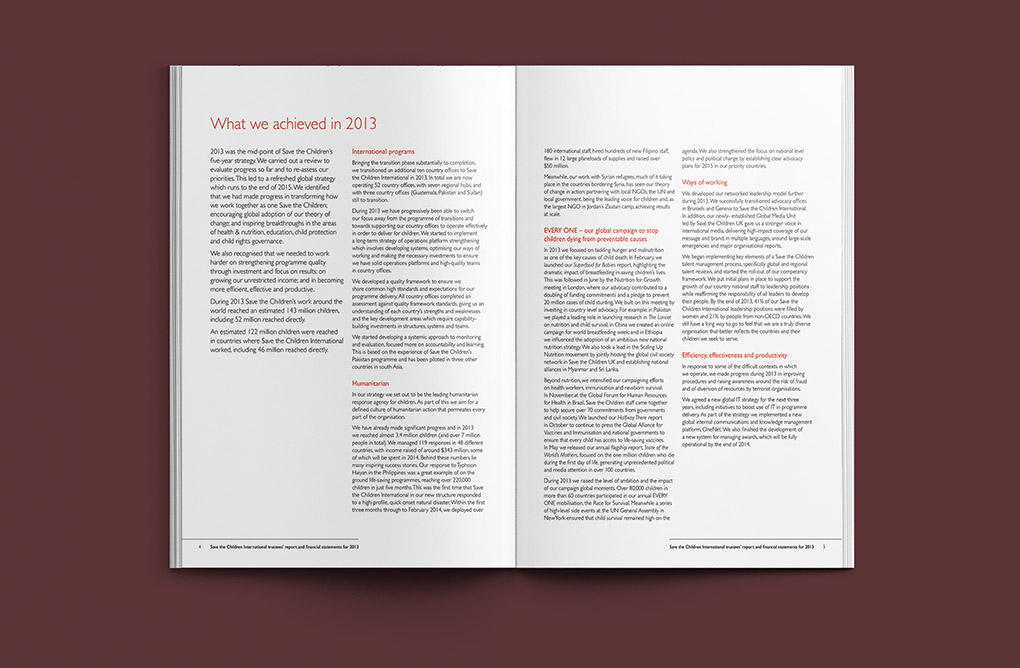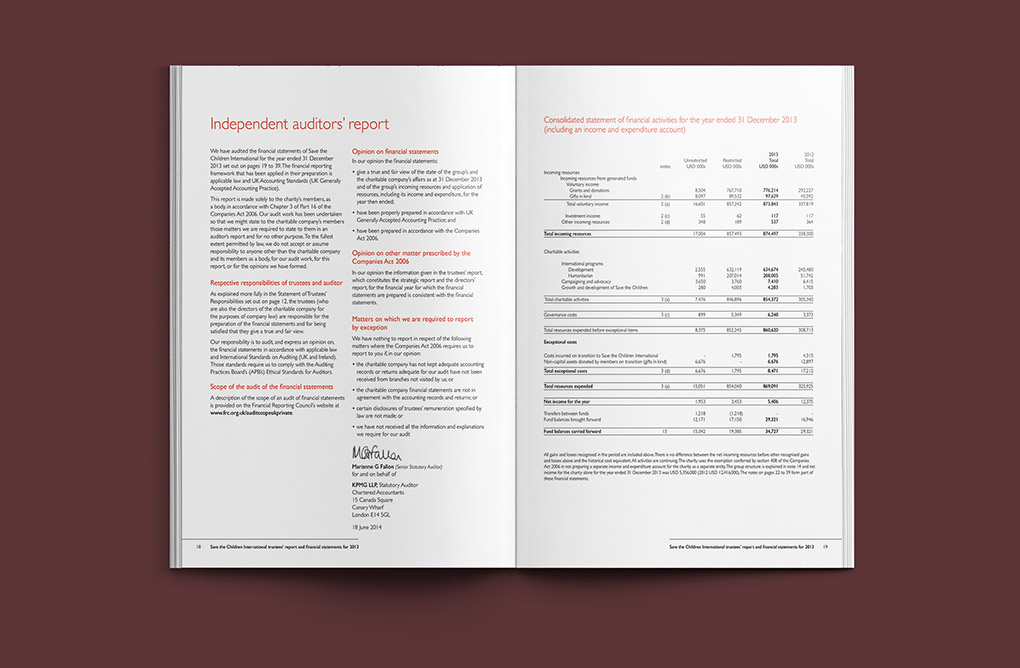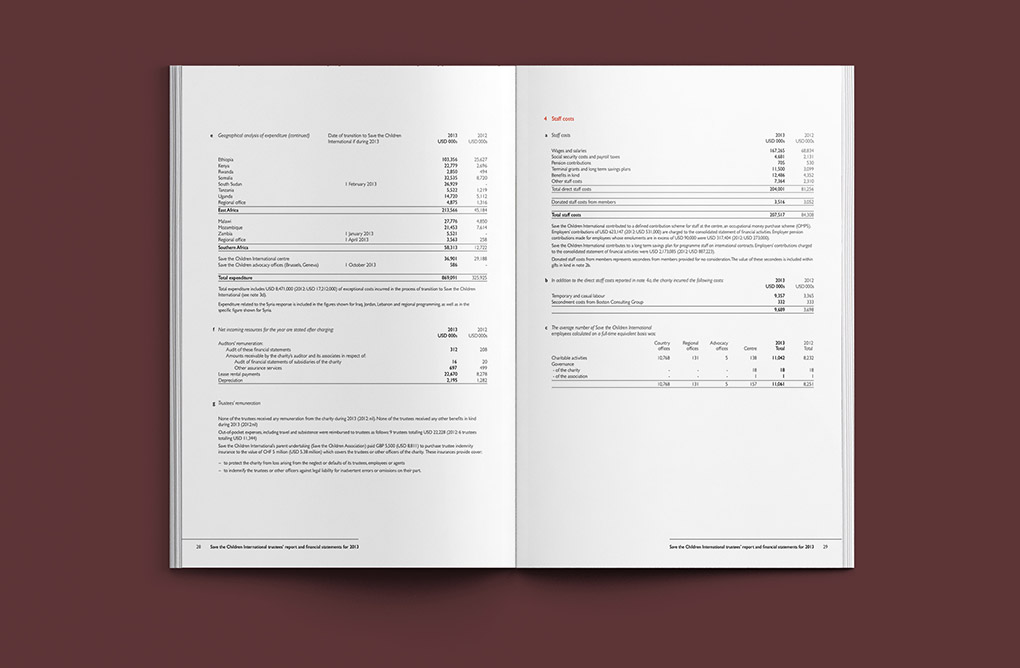 Save the Children UK Specific Annual Report
Alongside the Global annual reports, Save the Children also produce a UK specific annual report. Strong photography is used throughout, emphasising the issues children and families face in the UK. Consistent but playful typographical styles, pullout quotes, enlarged key statistics and captions help the reader to navigate through the report.