TRP Fitzwarren House
Interiors
TRP Research asked us to bring brand identity into their newly acquired premises, alongside their structural renovations.

Working with an original core of identity guidelines we developed and expanded the specifications to fill the space with colour and visuals that express energy, purpose and vitality.

Each room offers a unique theme, individualised by naming and photographic subjects, unified by a common style of iconography, bold use of colour and wall-to-wall pictures and graphics.
The initial focus of the entrance hall is in establishing brand and core message. A strong, rich blue wall presents the TRP Logo on stand-offs, key mission statement and representative images floating off the wall.
The glazed partitions that line the entrance hall and corridor beyond are finished with logo branded frosting and key 'values' messages: these continue throughout the building in various forms and are gradually 'discovered'.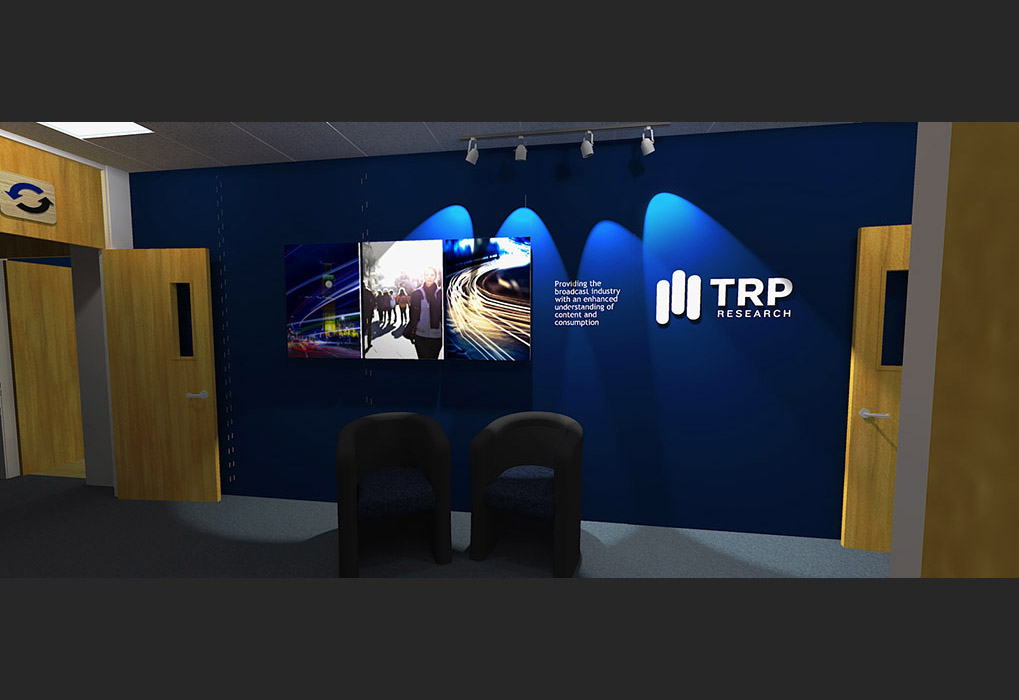 …a sense of space, freshness and room to breathe in defiance of the dimensions…
The Breakout Room takes a lighter approach with bright rich red walls and a variety of seating for different styles of use.
These sit below a wall-to-wall tensioned fabric mural shot in HDR by photographer Mike Charles. Photographic panels, wipe boards and verdant artificial grass adorn other walls.
The final full colour HDR fabric print is a stunning vista of the Brendon Hills with views towards Minehead, taken from a vantage point in the local Quantock Hills. It provides a pleasant link to the outside world – it is a location many employees will be familiar with – and one of the reasons people are drawn to pursue a work/life balance in Somerset.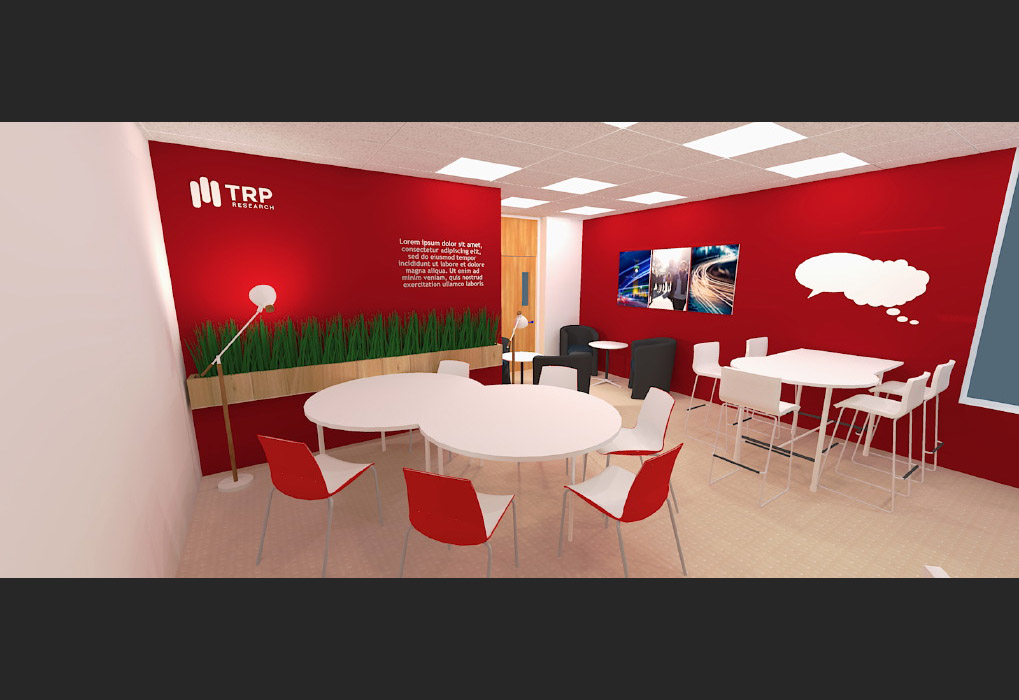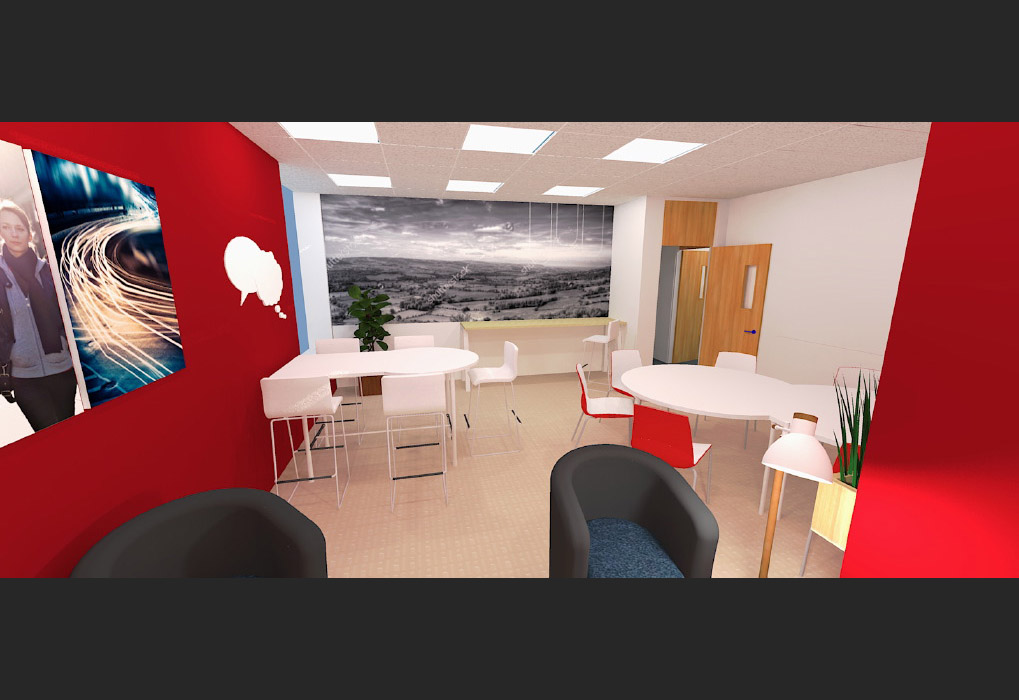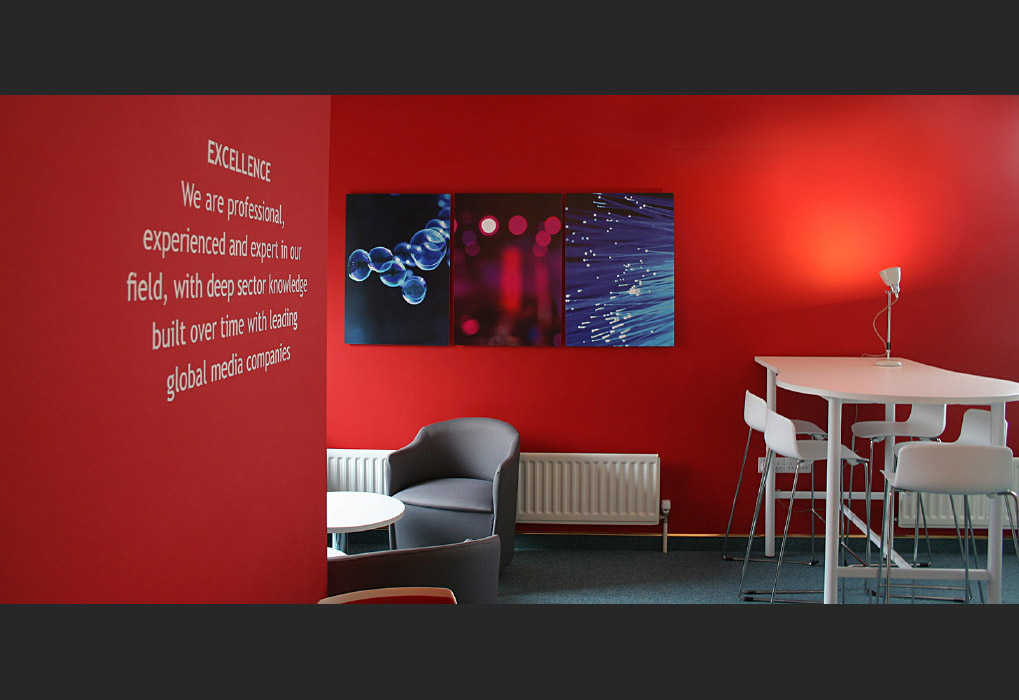 Wouldn't it be nice to have a break from work under a green and leafy canopy?
Due to the urban location of the building there are few opportunities for lunches or breaks on the grass beneath the trees – so we have brought a feeling of nature inside. The staff room features a full wall print – a leafy tree which brings a sense of freshness and nature to the break room. The effect on the room is dramatic and encourages a sense of positive ease.
We recommended a Dalsouple rubber floor in vibrant and energising red. In addition to offering a synaptic boost while drinking coffees and teas, the red provides a link between the staff room and the breakout room – both places for alternative thinking.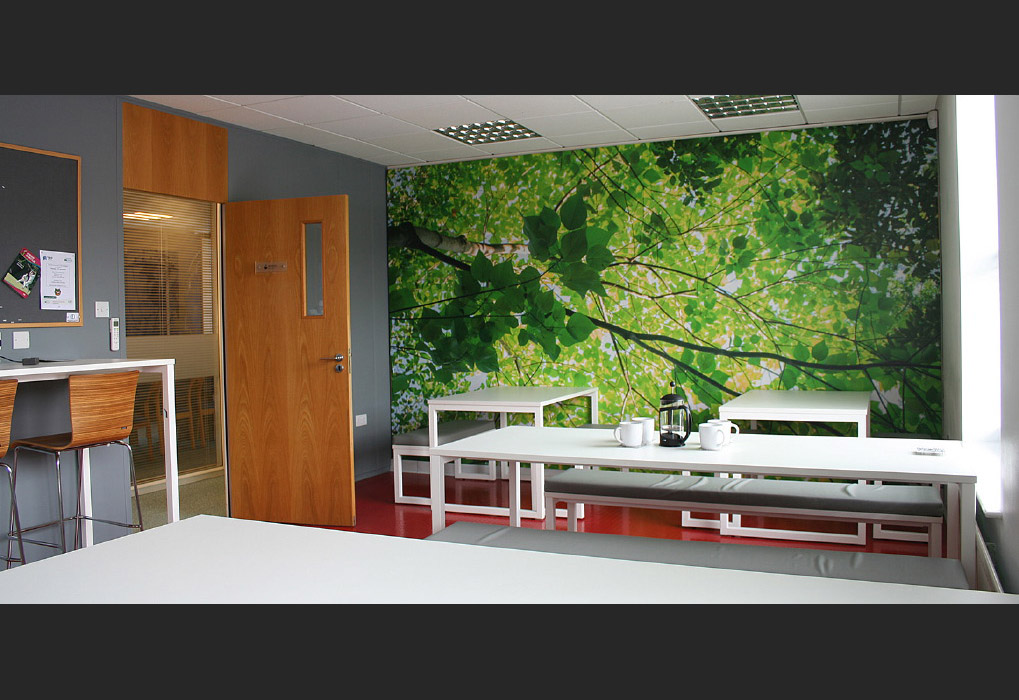 Each room has a name and matching icon, defining character while more practically to help with bookings and planning. A set of site-specific drinks mats with an infinitely tessellating icon pattern provide highly visible continuity and brand reinforcement at a table-top level.
The main Boardroom is themed in a rich blue powered at one end by a wall-to-wall stretched fabric print. The big wheel image can be interpreted in many positive ways in the context of the business and is branded with the TRP keylines. When needed an electric projection screen descends in front. The wall-mounted photographic panel shows the world illuminated, and can be seen as a cipher for both mission and ambition.
Other rooms maintain a sense of both vibrancy and purpose. Strong flat colours draw the rooms together as a whole, while clever and interesting use of stretched fabric screens, photographic panels and 3D icons encourages a sense of enquiry and imagination. Lighting plays an important role in highlighting the images and generating a sense of space, freshness and room to breathe in defiance of the dimensions.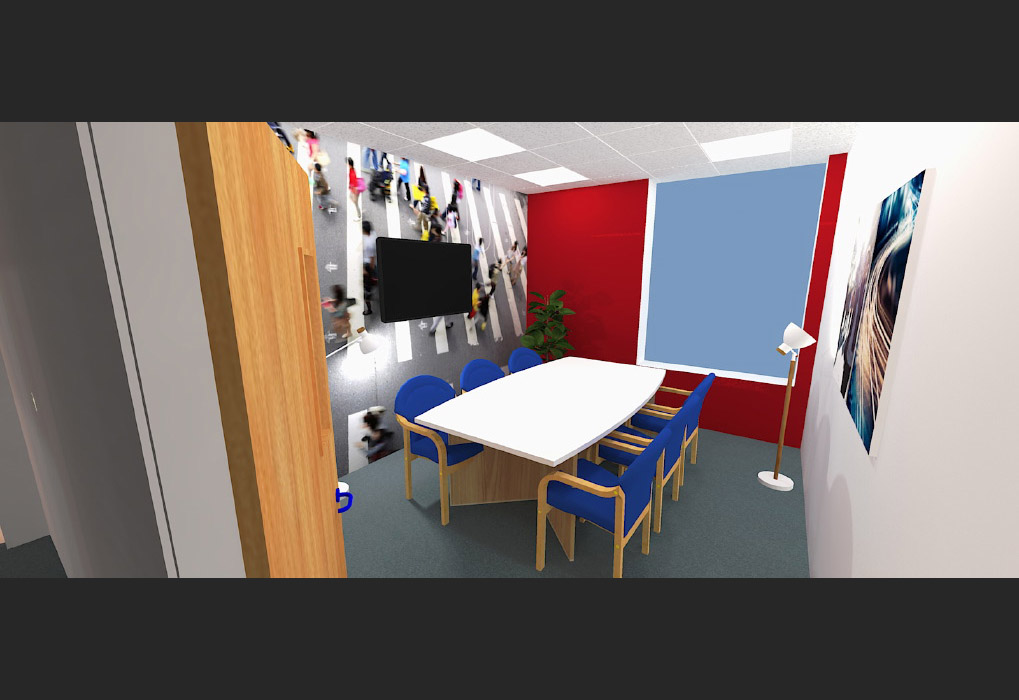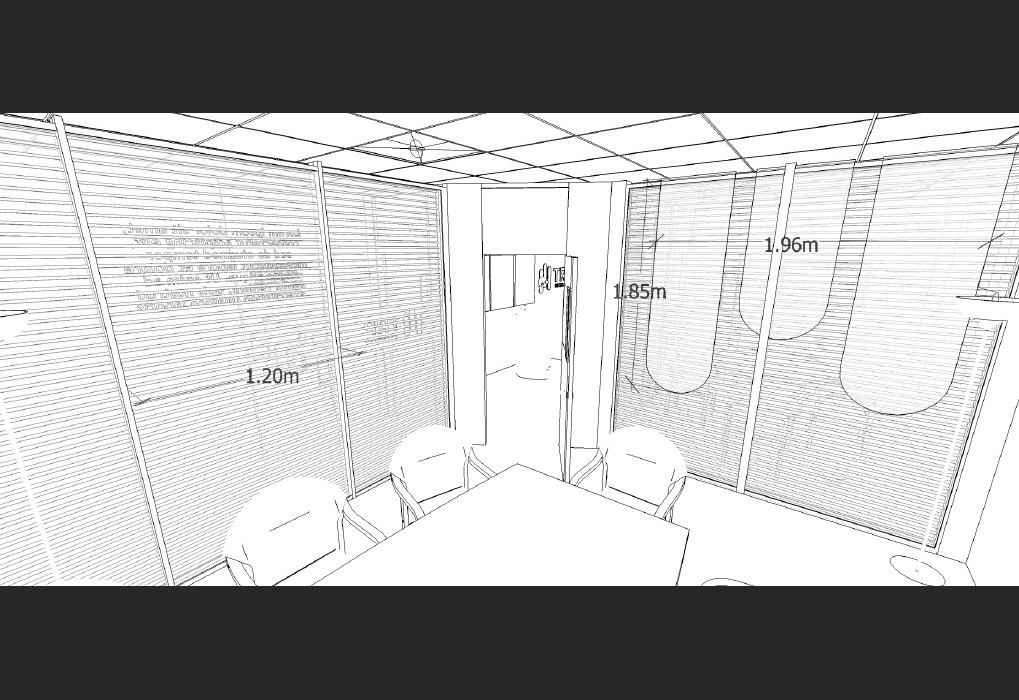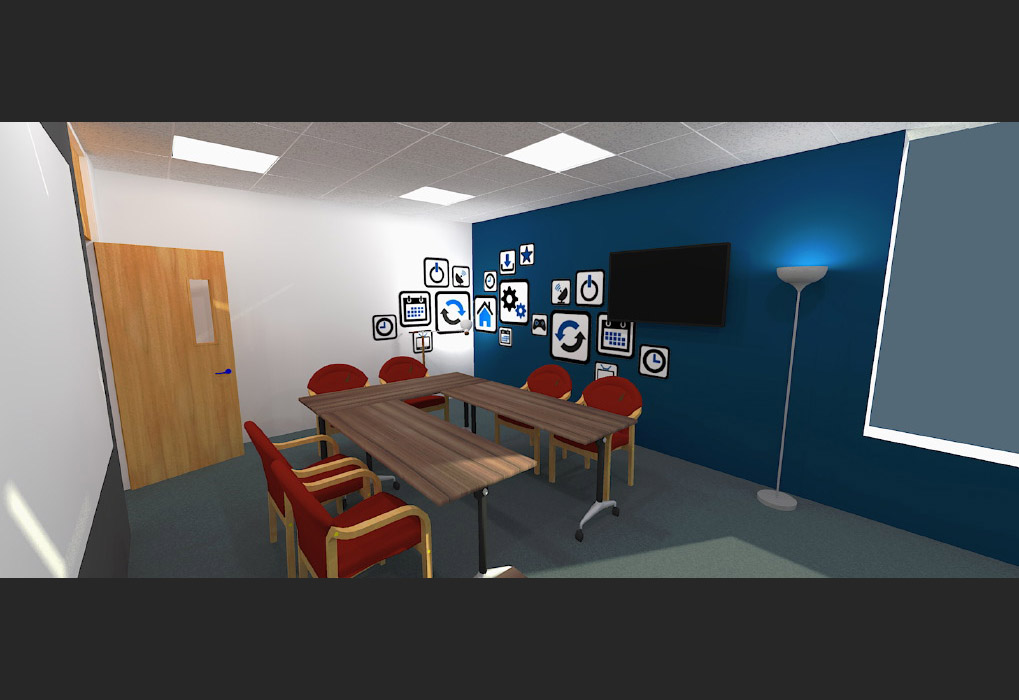 Rooms are identified by unique, linked names and icons. Meeting Rooms have bold images which refer to observing the heavens, broadcast signalling through technologies old and new, and the people in busy societies who are consuming modern media channels.