Save the Children
Animation
Fighting Child Trafficking
in Mozambique
Our animation for Save the Children Norway covers the complex issue of child trafficking in Mozambique, and the progress that has been made through advocacy and lobbying.
Growing protection
The story Save the Children wished to convey is one of the strategic and planned benefits of partnership and working together – seeking inter-organisational support and advocating for change within – and adjacent to – various bodies and organisations. The cog machinery is a fitting metaphor for how SC can achieve challenging goals if the groundwork and approach are conscious, broad and holistic. The tree represents the sheltering and protective nature of the project as well as the nurturing and growth process necessary to build lasting change.
All 3D modelling, animation and voice recording was carried out in-house.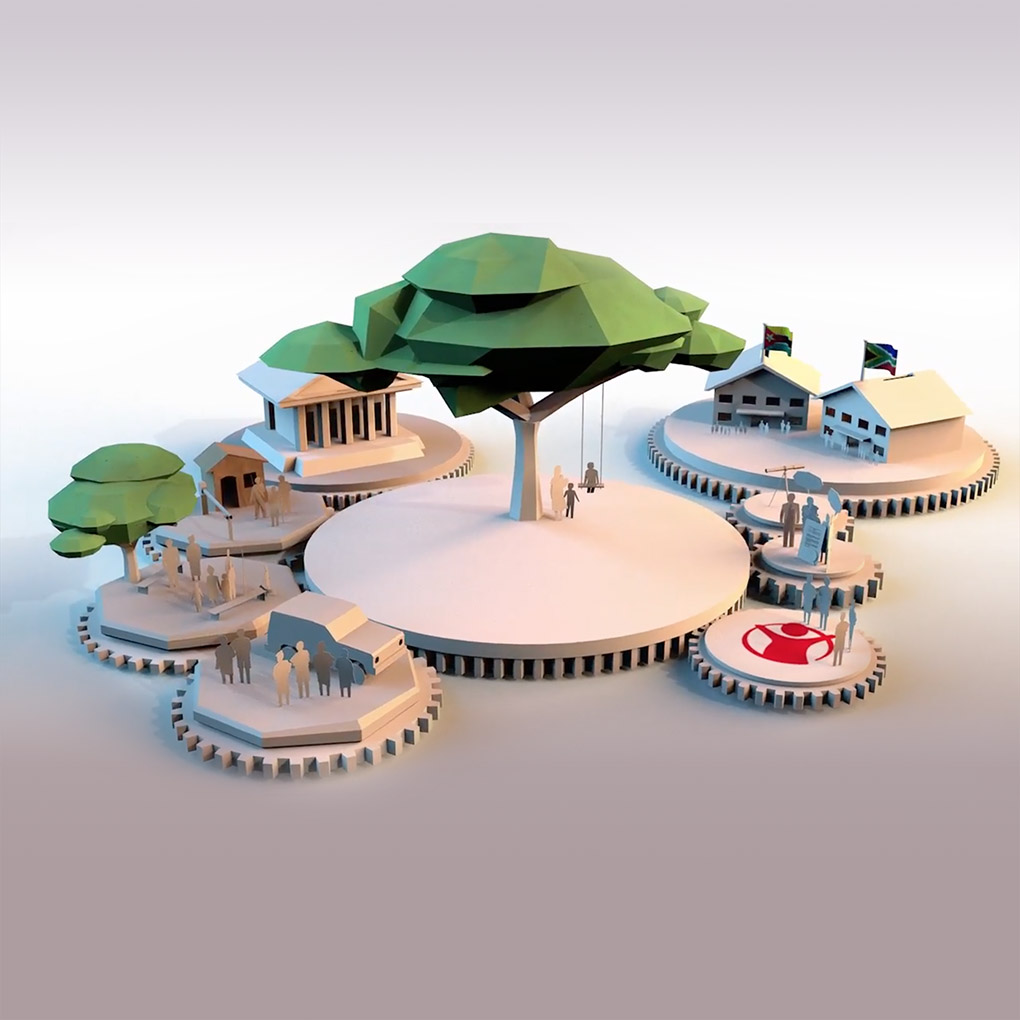 The tree represents the sheltering and protective nature of the project and the growth process necessary to build lasting change
Developing the story
Working together with the client team we developed and adjusted the story and script, building the visual concepts at the same time. Progressively detailed storyboards show how words and images work together and provide a step-by-step approval process.
Iterative ideas
Early concept reactions to script ideas are deliberately not cast in stone – back-and-forth discussions and creative flexibility lead to achievable and appropriate results
Paperwork styling
The crumpled paper style works well for the subjects, ranging from abstract concepts to specifics. The common texture enables a clean representation of learnt/shared ideas appropriate for a longer video with a lighter touch than might be employed in a shorter, more emotive campaigning advert.
Narration and music
We worked with broadcaster Laura James who provided narration, while the music of Katy Anderson creates the right ambient effects for the subject.
Rooted in reality
The Amarula trees represented are a species native to Mozambique – and the buildings featured have either a real world counterpart or a realistic root in the architecture of the region
Village & shanty town styling
Attention was paid to visual development of vernacular styles – traditional huts and shanty town shacks.
In the development render below use of smart arrays enables rapid development of two building models and a couple of trees into entire random settlements – comprised of only four separate models – plus the people figures – and many virtual clones.